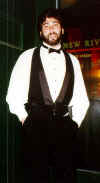 Steve Adler is the founder and president of Corey Consultants.
Having studied Psychology at Umass Amhearst and graduated in the late eighties, Steve has worked with computers ever since. "I found that I could reset a broken computer…", Steve has been quoted saying. "People don't have a 'Control-alt-delete' button, at least not that I have found yet", he once told me.
And so it goes that there is now one less, profoundly incompetent psychologist practicing in the world.
As for computers, they were a natural for him. His first computer was a TRS-80 his father bought in the seventies. Practically useless, it served mostly as a great introduction to the future of computers, and programming.
Now Steve spends his time between systems and clients. He says that he also has a family, he thinks.
Click here to see the "Dilbert" cartoon that gave Steve the inspiration to go into the Consulting Business
You can Email Steve at: