This picture was taken Jan 2, 1999 when a fistful of my childhood friend got together for the holidays. we hadn't assemble this group of people since we all were kids.
Can you guess what time this photo was taken?

This picture of me and my manly '92 Harley Davidson Softail was taken about five years ago. Take note on how manly it is. Also pay close attention to the manly man on the manly motorcycle in this photo. Very Manly. Sure, I have issues...

Here are Mom and Dad, the parents. We get along great, and go out socially quite often.
They are quite "cool" for parents. Not pictured is Larry, my parents age, who has lived with the parents for several years now. I guess I can say I am the only guy I know who has three parents. Fathers Day can get expensive at home!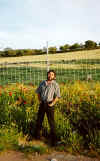 I am tired and pissed off in this picture of me in Spain after driving since before dawn to get to Madrid. I don't know why I have included it here, but I had it scanned, so what the heck.