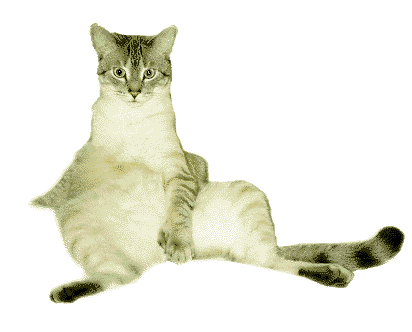 Whitman The Cat
is a very silly Cat
Born October 11, 1993, Whitman the cat quickly became a member of the family. He has a fraternal twin sister named Emma, whom is loved by Anke, but I think she is just a standoffish bitch.
I won't put here on my web page until she starts being nice to me!

To Sit like Whitman
The stupid look on your face is optional.
Its all in the curve of your butt!

How can you not laugh?

"You want a piece of me?"

"I caught my 'ol lady sleepin' wit another cat!"

OK, I said I wouldn't post Emma, Whitman's evil, twin sister, but I found a picture that typifies her devilish ways.
When we turned the light on in the living room, we saw that she found 'Lil Lilly's jumper seat, and proceeded to make herself at home. The next thing you know, she'll want to be breast fed! What a bitch!